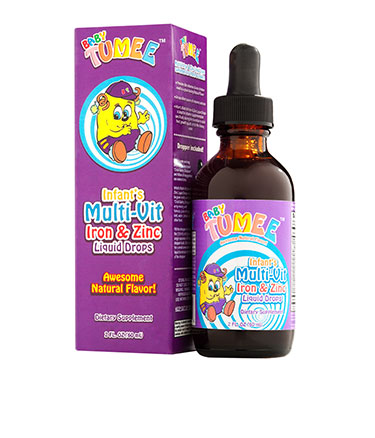 Baby Tumee Drops
Specially formulated for infants under two years of age
Baby Tumee Liquid Drops is a special Multi-vitamin formula designed for infants under the age of two. Baby drops contain twelve essential vitamins and minerals, which support the healthy growth and development of infants. Mr. Tumee is devoted to the health of kids from the infancy through childhood! * Made with fruit punch flavor and vegetable color.
This product contains:
Supplement Facts
Buy Now
* These statements have not been evaluated by the Food and Drug Administration. This product is not intended to diagnose, treat, cure, or prevent any disease.
×
Baby Tumee Drops Supplement Facts
View More Product
Mr Tumee™ is a product of multi-award winning Zanon USA, Inc. d.b.a Vitamec USA, Inc.